---
ONSTAR® AND GMC CONNECTED SERVICES PLANS

Stay connected — in or out of your vehicle. OnStar and GMC Connected Services Plans† give you a seamless ownership experience, access to an entire suite of safety and security services, available myGMC Mobile App,† and the confidence of knowing that specially trained OnStar Emergency Advisors† are ready to help 24/7.

HOW IT WORKS†

---
Earn 3 points per $1 spent on most OnStar and GMC Connected Services Plans.† Cardmembers will earn 7 total points† for each $1 spent on eligible plans.†

---
---
Redeem your points toward select OnStar and GMC Connected Services plans, as well as eligible Accessories, paid Certified Service and more†.
Earned points will be automatically added to your account. Redeemed points will be automatically removed from your account when the purchase is completed.

REDEEMING IS EASY.

---
Click "Redeem Points" link below to access your account

---
---
---
Simple prompts will guide you through the steps

---
---
---
Choose your connected GMC vehicle

---
---
---
View available plans for your vehicle

---
---
Select the plan and length of service you'd like to redeem your points toward

---
---
Choose "Redeem Now" — points will automatically be deducted from your account

---
READY TO PUT YOUR REWARDS TO WORK?

---
---
ENROLL IN MY GMC REWARDS FOR FREE AND EARN ON MOST THINGS WITH GMC.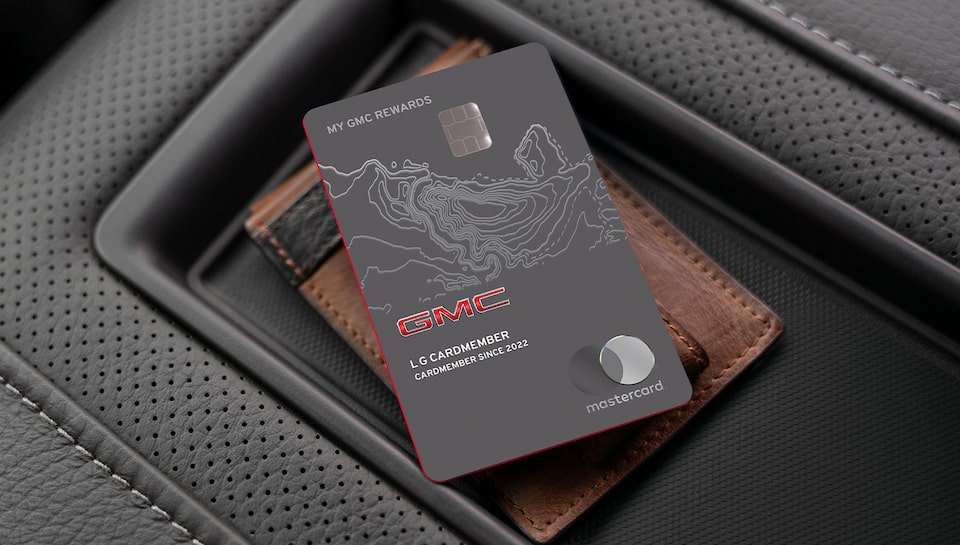 APPLY FOR THE MY GMC REWARDS CARD™ AND EARN FASTER WITH YOUR EVERYDAY SPEND.
Clicking Apply Now will take you to Goldman Sachs Bank website to apply for a My GMC Rewards Card. Application is subject to the Goldman Sachs Terms of Use and Privacy Policy.
---
---
MORE WAYS TO EARN AND REDEEM

---
IF YOU'VE GOT A QUESTION, WE'RE HERE TO HELP.
Find answers to your questions in the Support section. Not finding what you're looking for? Contact a dedicated Member Support Specialist here.
---