HUMMER EV

OWNER RESOURCES

Preproduction model shown.  Actual production models may vary.  Reservations for HUMMER EV are currently full.
Make the most of your GMC HUMMER EV Pickup driving experience. Discover these Revolutionary resources – from information about connecting with the myGMC mobile app† HUMMER EV-exclusive accessories and merchandise.

GMC HUMMER EV: DECLASSIFIED

Your GMC HUMMER EV Pickup is revolutionary. These videos explain what you need to know about using the features and capabilities that have earned it supertruck status.

CAPABILITY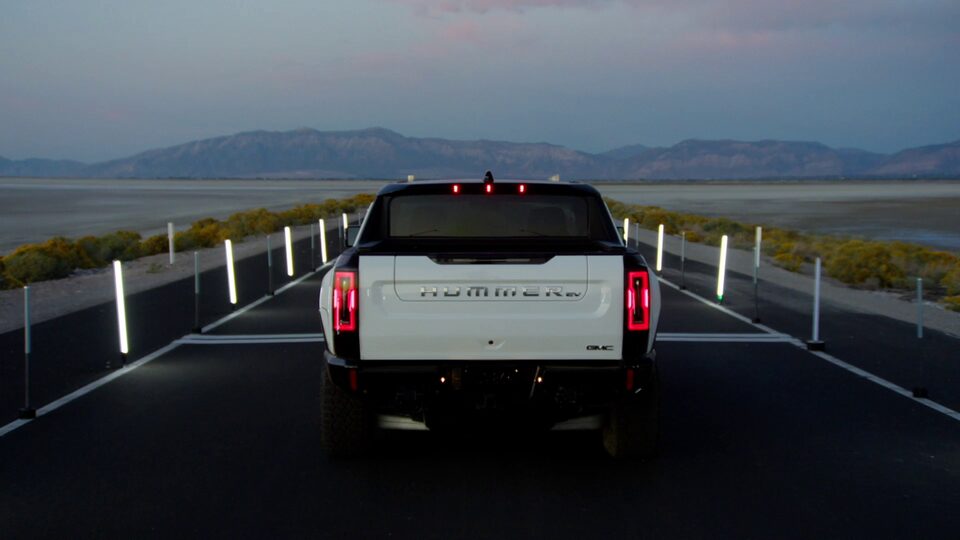 WATTS TO FREEDOM
Watts to Freedom† is the available feature that enables peak horsepower and torque to help propel GMC HUMMER EV Pickup Edition 1 from 0-60 mph in a GM-estimated 3 seconds.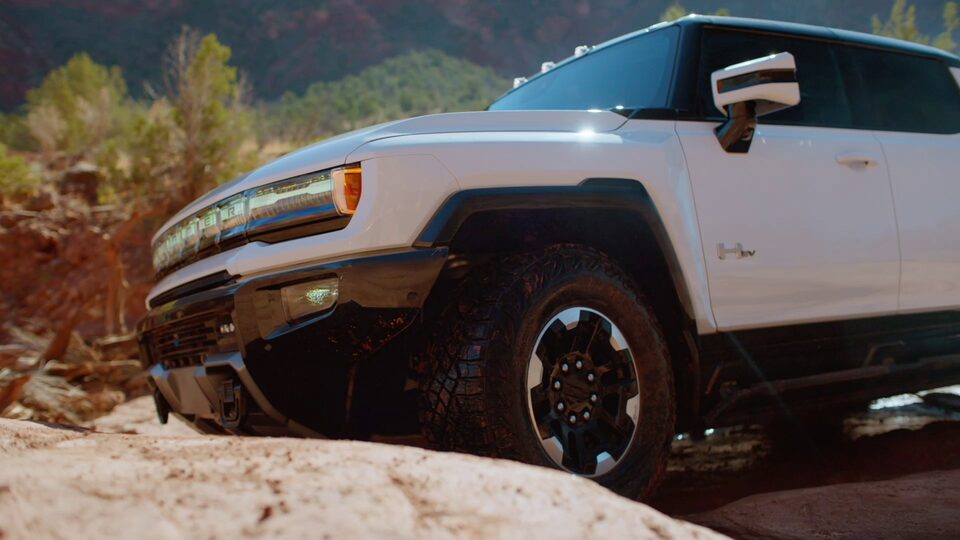 AIR RIDE ADAPTIVE SUSPENSION
Available Air Ride Adaptive Suspension allows you to adjust your GMC HUMMER EV Pickup's ride height in a range of levels.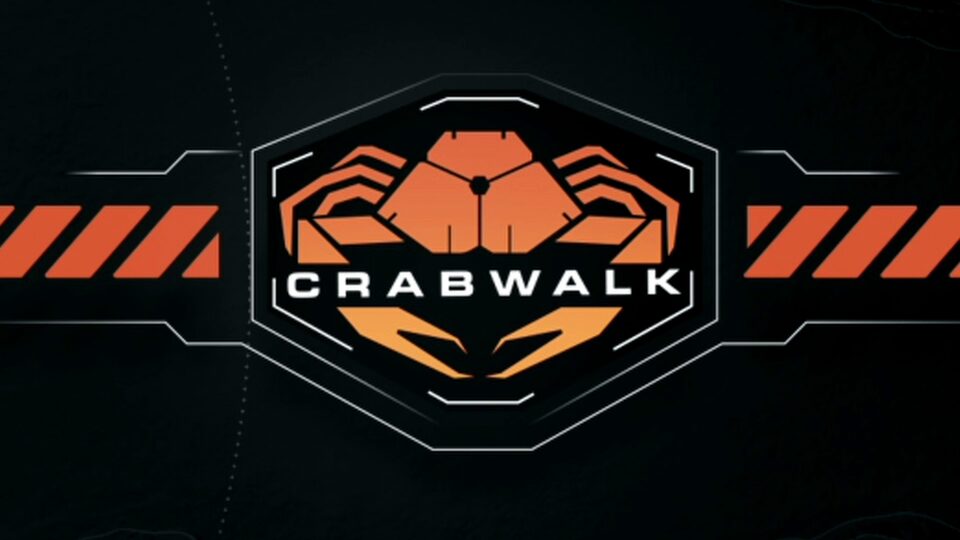 4-WHEEL STEER WITH CRABWALK

Available 4-Wheel Steer also provides the maneuvering flexibility of CrabWalk™† — a revolutionary available setting that allows the rear wheels to turn in the same direction as the front, up to 10 degrees in either direction—to drive diagonally at low speeds.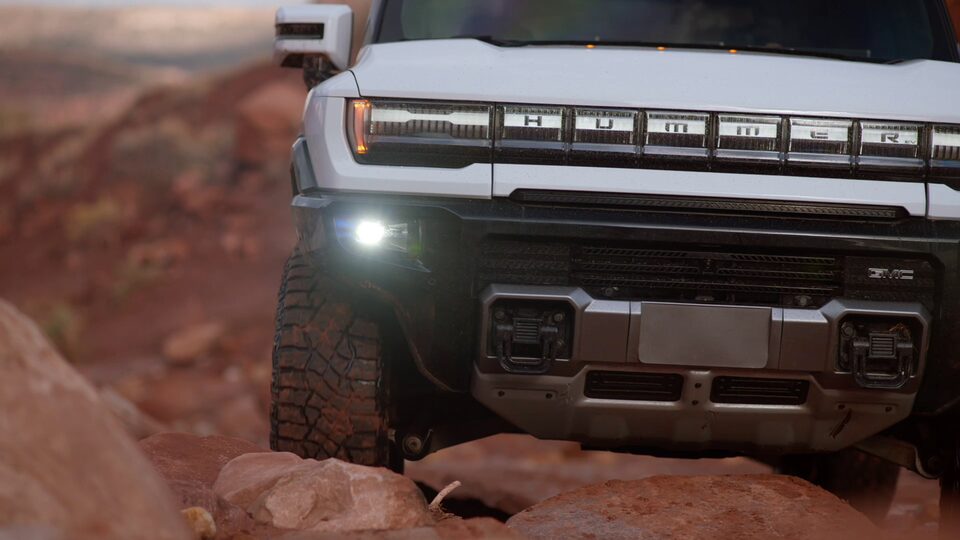 ULTRAVISION WITH UNDERBODY CAMERAS

Available UltraVision† with forward-facing and rearward-facing underbody cameras, allows you to choose up to 18 separate available camera views to help navigate difficult terrain in your GMC HUMMER EV Pickup.

TERRAIN MODE

Terrain Mode provides enhanced off-roading control while you're off-roading at low speeds like rock crawling.

OFF-ROAD APP

The available Off-Road App provides off-road information on the infotainment screen, displaying a variety of real-time vehicle data.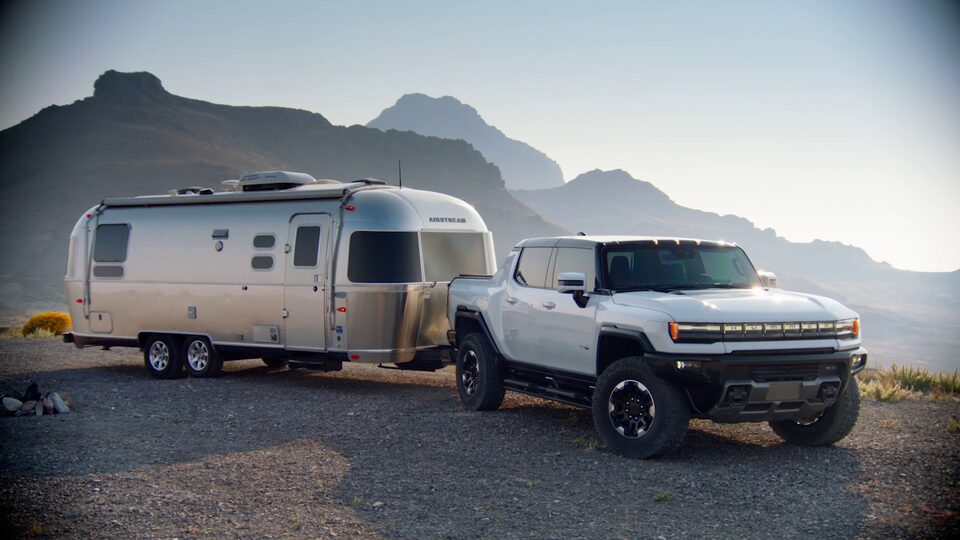 PROGRADE TRAILERING APP

Enhance your trailering experience with the ProGrade™ Trailering app† and its suite of technologies.

TECHNOLOGY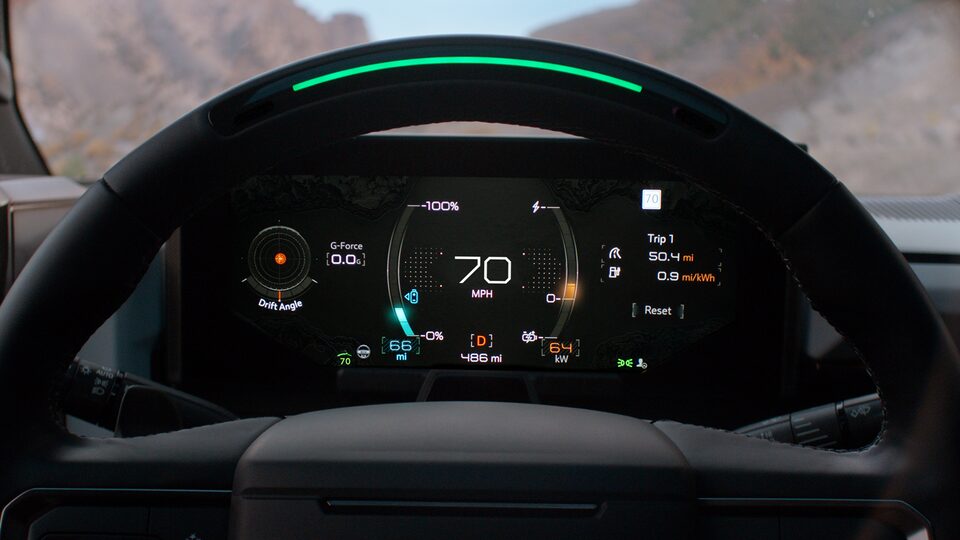 SUPER CRUISE
Experience truly hands-free driving on compatible roads with available Super Cruise† driver-assistance technology.

GOOGLE BUILT-IN COMPATIBILITY

Google built-in† is a helpful, personalized and seamless way to enhance your in-vehicle experience. With Google Assistant, Google Maps, and Google Play you get access to hands-free help, live traffic updates, navigate or locate charging stations, some of your favorite apps and more.

ONE-PEDAL DRIVING

One-Pedal Driving† in the GMC HUMMER EV Pickup allows you to control acceleration and deceleration with just the accelerator.
CHARGING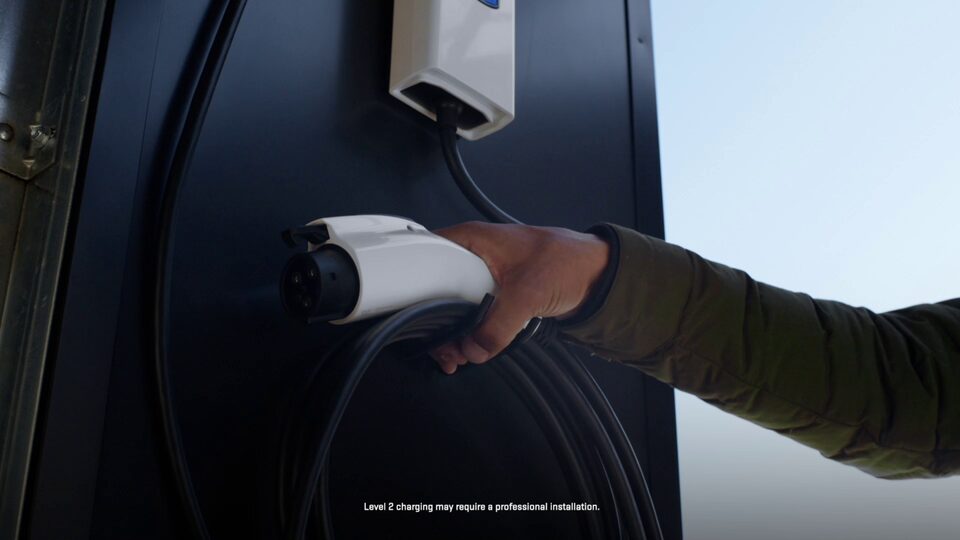 CHARGING AT HOME

Ensure your GMC HUMMER EV Pickup is charged up by using the in-vehicle Energy App which allows you to set a home charging schedule to take advantage of overnight, off-peak charging hours and be ready for the day ahead.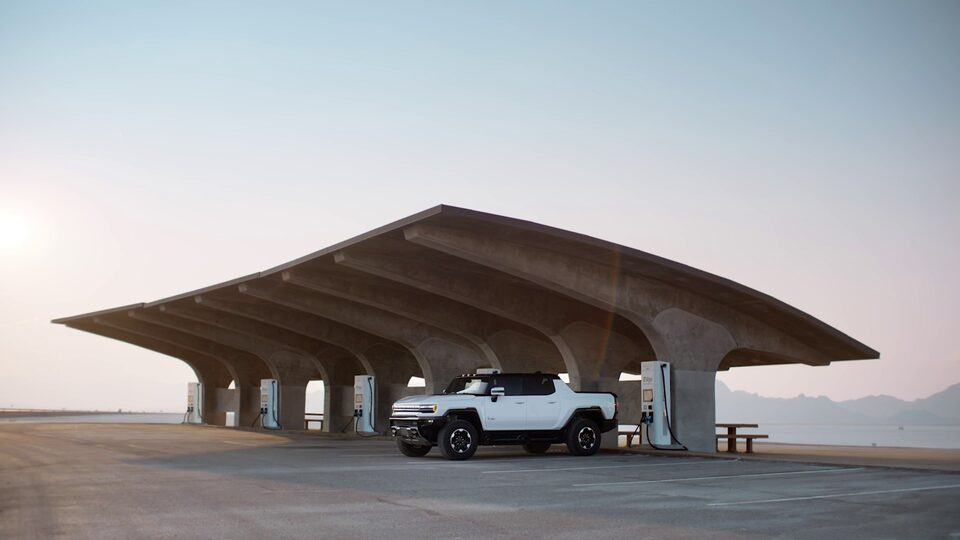 CHARGING ON THE GO

Find, initiate and pay for charging at public stations with the available myGMC mobile app† or available Google built-in† capability.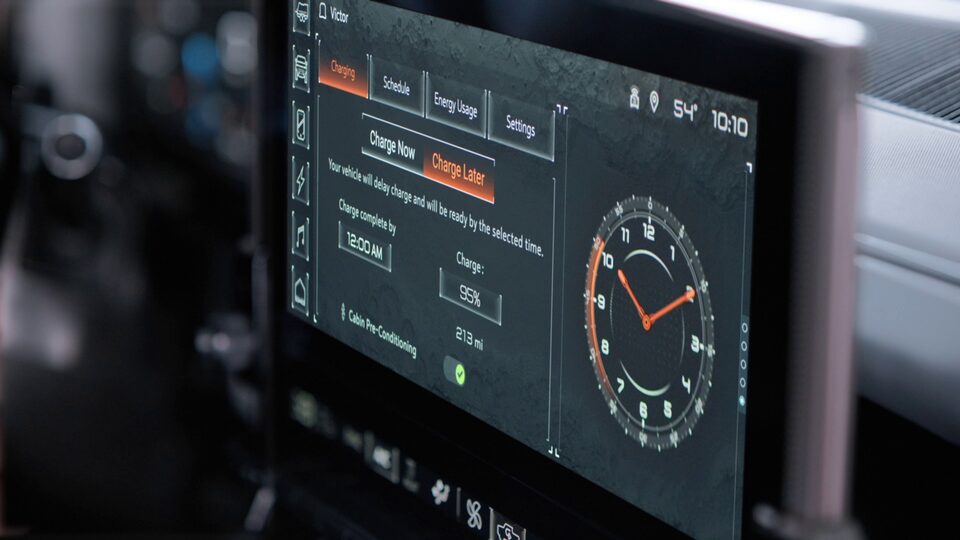 IN-VEHICLE ENERGY APP

Control the best time and place to power up with the in-vehicle Energy App and its convenient charging schedule, real-time charging status and energy usage and more.

myGMC MOBILE APP

The available myGMC mobile app† allows you to control the charging of your GMC HUMMER EV Pickup right from your smartphone.

PERSONALIZATION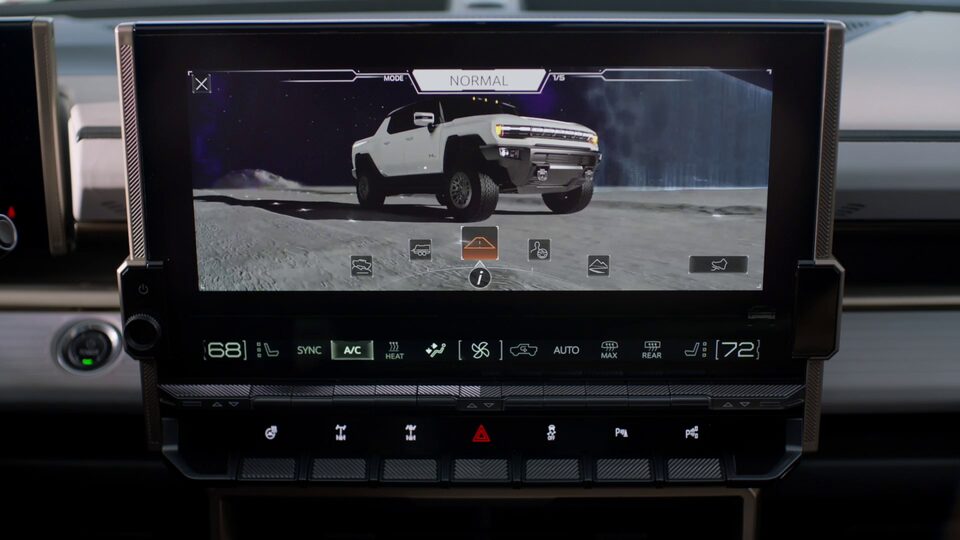 DRIVE MODES

Select from five drive modes to tailor the GMC HUMMER EV Pickup's driving characteristics.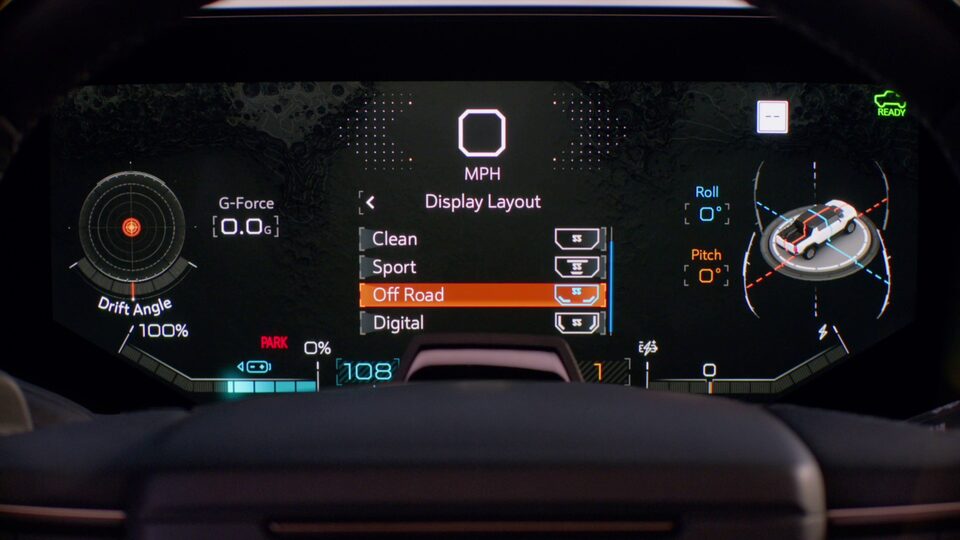 DRIVER INFORMATION CUSTOMIZATION

The Driver Information Center in the GMC HUMMER EV Pickup can be customized to provide you with a personalized driving experience.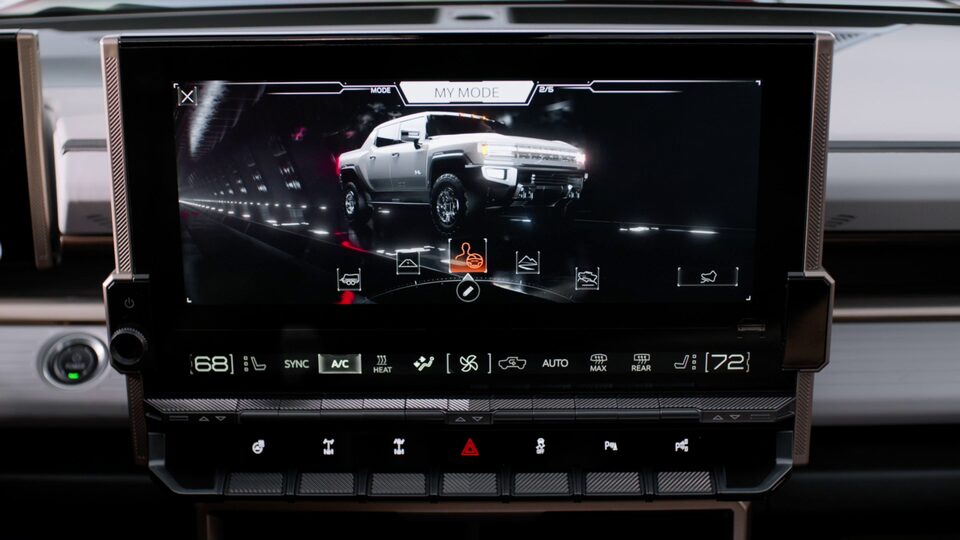 PROGRAMMING MY MODE

The GMC HUMMER EV Pickup lets you personalize your driving experience by choosing My Mode to adjust steering, suspension, acceleration and motor sounds to your liking.

AUXILIARY SWITCHES

Customize up to six Auxiliary Switch buttons on the GMC HUMMER EV Pickup's touch-screen display.

IMMERSIVE
INFINITY ROOF

Easily remove the Infinity Roof's Modular Sky Panels, as well as the I-bar, to create a fully immersive experience in the GMC HUMMER EV Pickup.

CONNECTIVITY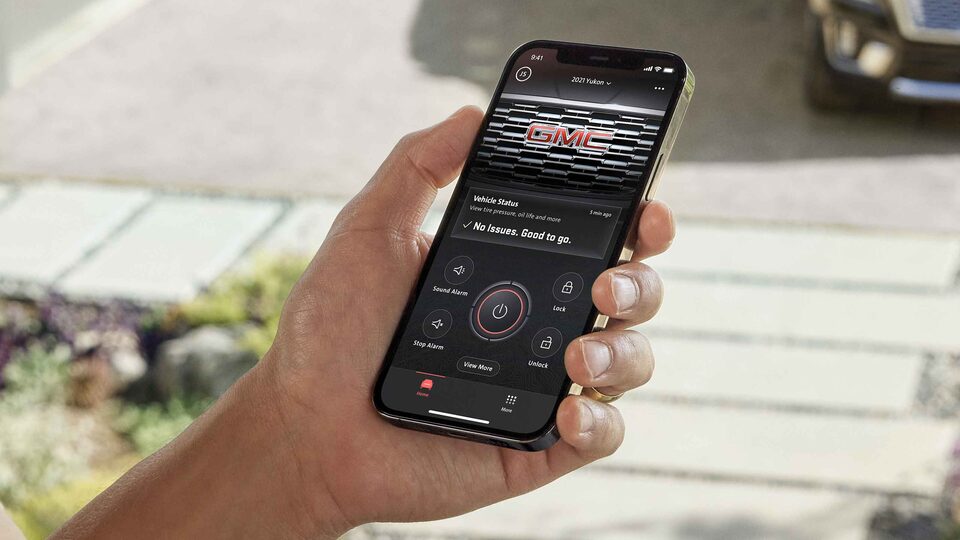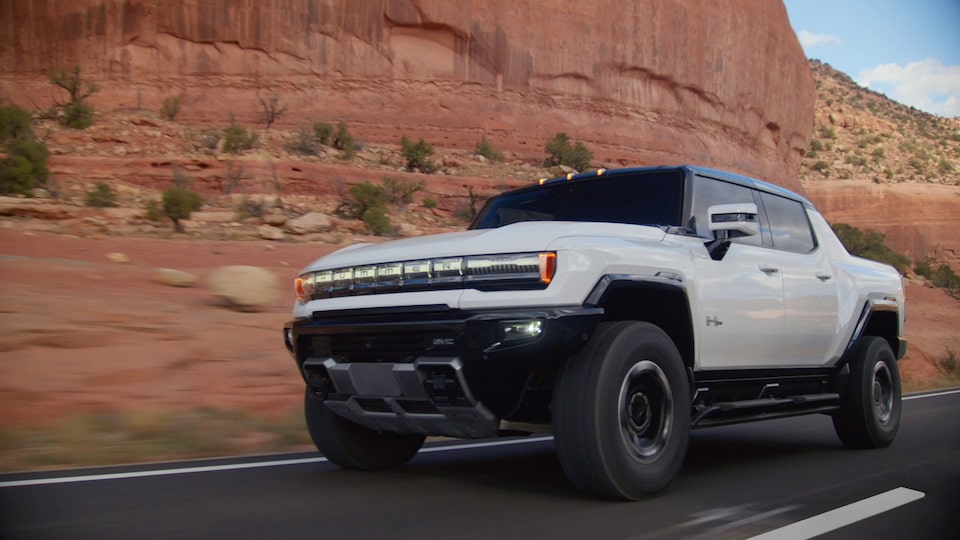 SUPER CRUISE DRIVER-ASSISTANCE TECHNOLOGY

Get to know Super Cruise†—this available GM technology is the first truly hands-free driver-assistance technology for compatible roads. Learn how it offers the ease and convenience of hands-free driving, now including hands-free Automatic Lane Change†. As a GMC HUMMER EV Edition 1 Pickup owner, you receive 3 years† of connectivity to support Super Cruise functionality, as well as available OnStar® and Connected Services†, available SiriusXM®†, available myGMC mobile app†, remote start and a lot more.

ADDITIONAL REVOLUTIONARY RESOURCES

The following accessories, gear and manuals will help you personalize and enhance your GMC HUMMER EV Pickup ownership experience.

ACCESSORIES

Ready to make the one-of-a-kind supertruck truly one of a kind? GMC Accessories help make your GMC HUMMER EV Pickup as personal as your adventures.

LEARN MORE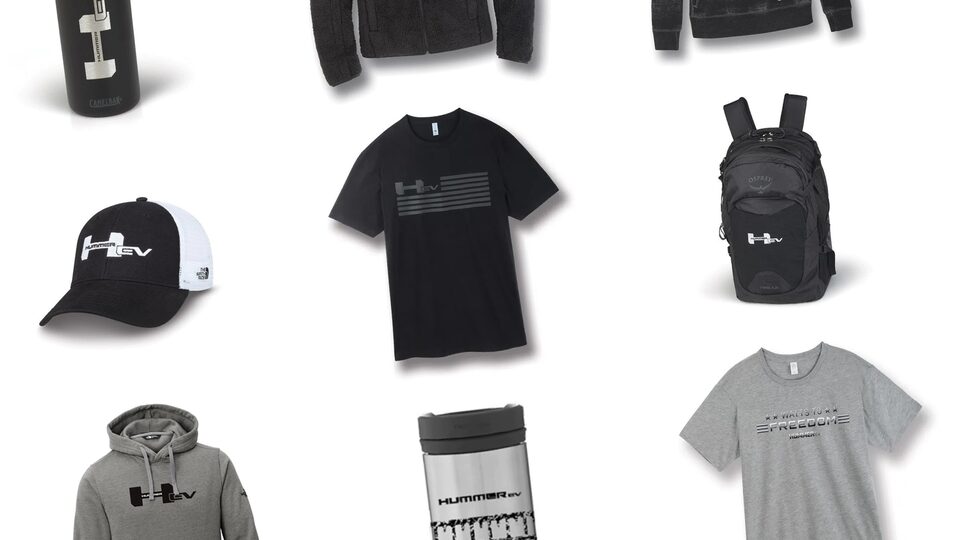 MERCHANDISE

Show the world you're a proud GMC HUMMER EV Pickup owner. Explore a full range of exclusive HUMMER EV gear.

LEARN MORE
Dealer-installed accessories shown.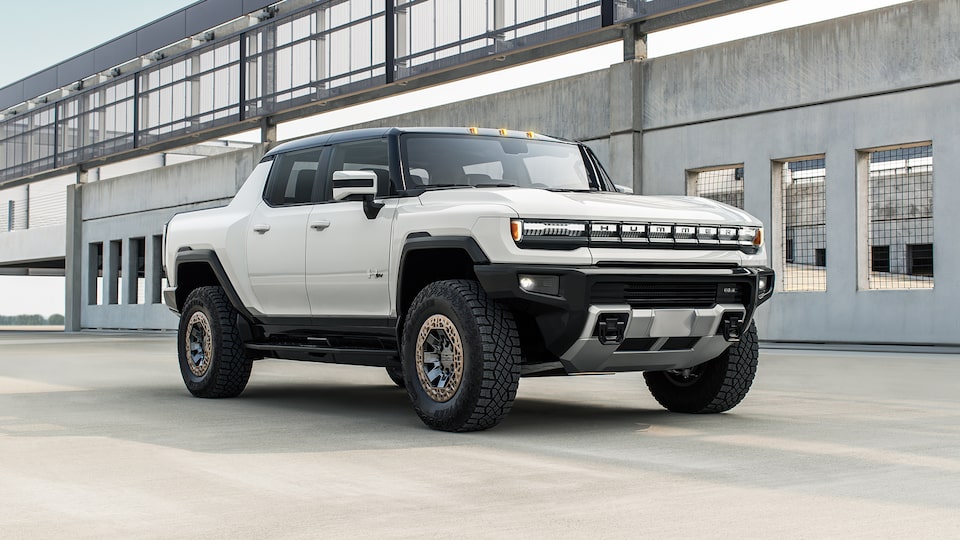 OWNER MANUALS

Find manuals and other helpful guides to get the most out of your GMC HUMMER EV Pickup.

DOWNLOAD PDF
SUPER CRUISE ENHANCEMENTS

---
Trailering with Super Cruise† is now available for the HUMMER EV EDITION 1 via a Vehicle Software Update through the GMC Infotainment System† touch screen. Performing this update is convenient, seamless, and can be completed in four easy steps. Here's how:

A Vehicle Software Update will appear on your center display. To begin the update, tap Install.

An Important Notice message will appear on screen. Tap Install to proceed with the update.

The system will begin programming the software and the update's time remaining will appear on the screen.

Once complete, a green checkmark will appear, and you will be able to use Super Cruise while trailering. Please view your owner's manual supplement prior to use.