THE WORLD'S FIRST
ALL-ELECTRIC SUPERTRUCKS

GMC HUMMER EV PICKUP AND SUV

GMC HUMMER EV PICKUP AND GMC HUMMER EV SUV
The world is now the home of two revolutionary all-electric supertrucks.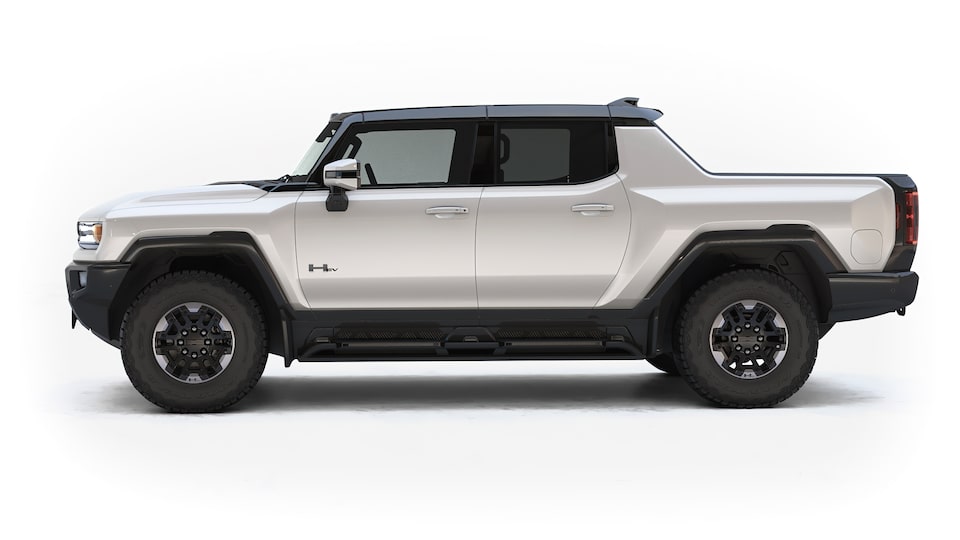 GMC HUMMER EV PICKUP

GMC HUMMER EV Pickup dominates terrain with revolutionary features and capabilities.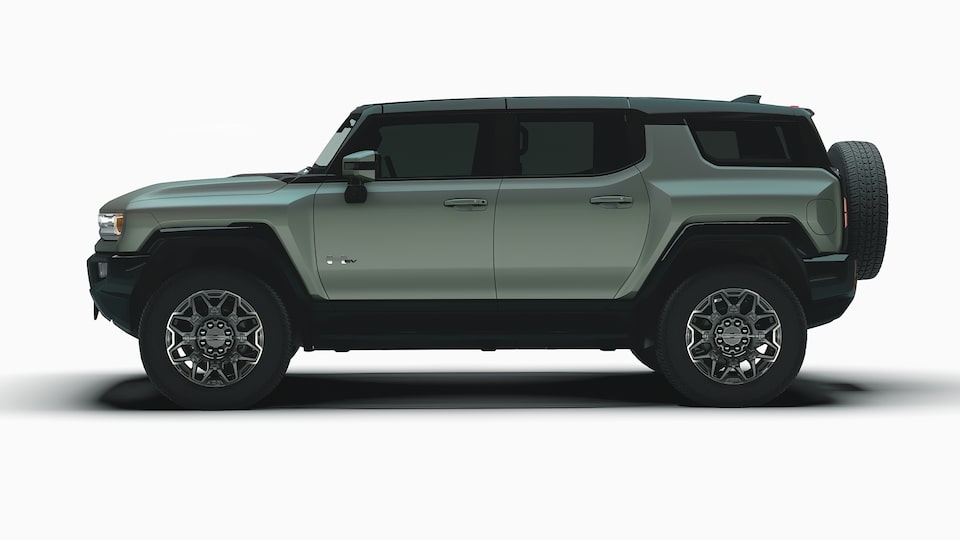 GMC HUMMER EV SUV
GMC HUMMER EV SUV combines many of the features of the pickup with the versatility of an SUV.

---
INTRODUCING GMC LIVE

Step into a GMC Live virtual showroom from the comfort of your home or anywhere. Choose a one-on-one personalized session, or a group tour, and be matched with a GMC Live agent who can answer your questions.
---
---
GREAT INDOORS

Like everything GMC HUMMER EV, the cabins were designed for a unique combination of innovation and convenience. So no matter how rugged the great outdoors gets, inside GMC HUMMER EV Pickup and SUV, you'll enjoy every moment.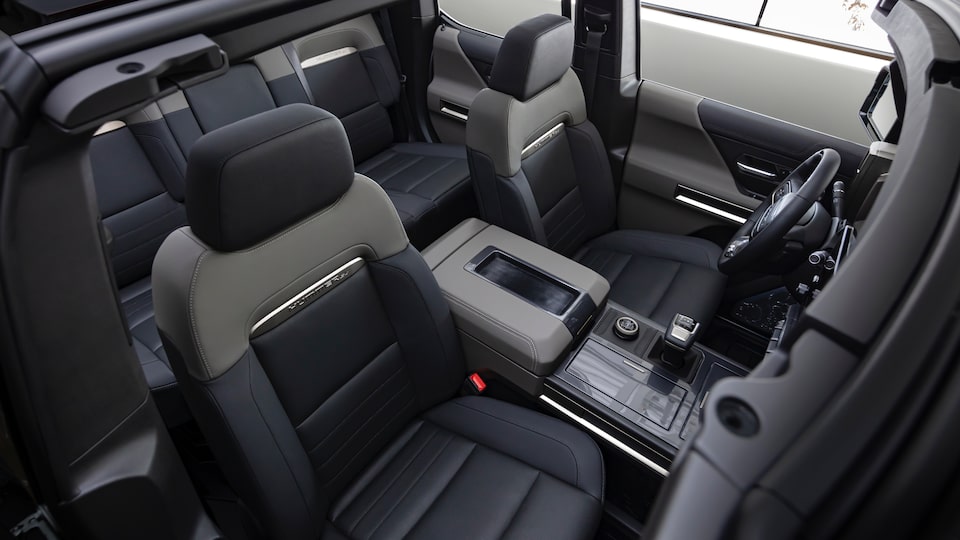 LUNAR SHADOW INTERIOR

The available Lunar Shadow interior† in Jet Black and Taupe casts a dark appearance and is complemented by Tech Bronze accents. Durable all-weather flooring adds visual and practical appeal.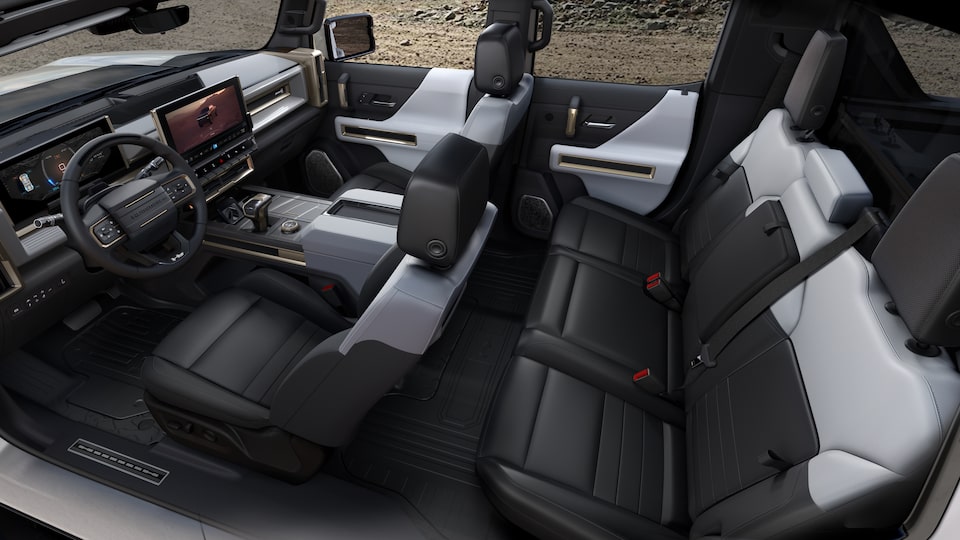 LUNAR HORIZON INTERIOR

Intergalactic travel and otherworldly landscapes inspire the available Lunar Horizon-themed Interior† in Jet Black and Light Gray. Discover Tech Bronze accents, durable all-weather flooring and more.

OFF-ROAD DOMINANCE

Elements of the HUMMER EV PICKUP and the HUMMER EV SUV are engineered to overcome tough off-pavement obstacles.

ULTRAVISION

Available UltraVision† – with up to eighteen camera views† on pickup and seventeen on SUV, including standard HD Surround Vision – includes waterproof underbody forward-and-rear-facing cameras for real-time views of the terrain to help you pick the best line along the trail. A washer function and replaceable lens protectors help you see clearly. Using multiple cameras to display a digital overhead image of the area around HUMMER EV, HD Surround Vision allows you to maneuver off-road and navigate tight spaces when traveling at low speeds.
---
SPECIALLY ENGINEERED 35" TIRES
It all starts with a towering ground clearance made possible by specially engineered 35" Goodyear® Wrangler Territory tires for an optimal balance of on- and off-road performance.

Safety or driver-assistance features are no substitute for the driver's responsibility to operate the vehicle in a safe manner. The driver should remain attentive to traffic, surroundings and road conditions at all times. Visibility, weather and road conditions may affect feature performance. Read the vehicle Owner's Manual for more important feature limitations and information.
---
REVOLUTIONARY DESIGN

HUMMER EV design elements are infused with signature cues, from distinctive front lighting, a low-turret roof profile, an upright windshield and unique taillamps.

---
Simulated vehicles shown with 2023 Model Year accessory wheels on the pickup. Actual production models may vary. Pickup initial availability Fall 2021. SUV initial availability early 2023.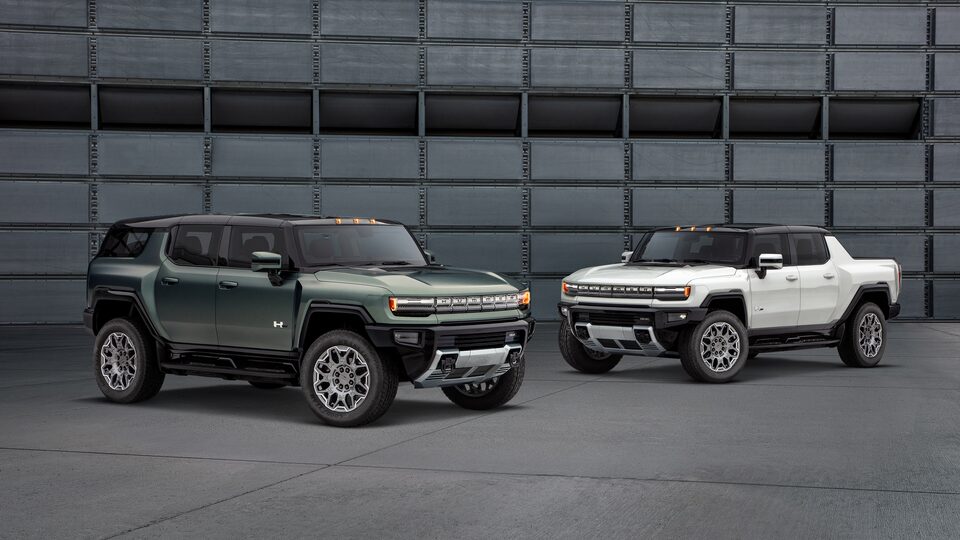 STATE-OF-THE-ART LIGHTING
STATE-OF-THE-ART LIGHTING
POWER REAR DROP GLASS

POWER REAR DROP GLASS
MULTIPROTM TAILGATE PICKUP

MULTIPROTM TAILGATE PICKUP
SUV POWER SWING GATE

SUV POWER SWING GATE
MOONSHOT GREEN MATTE PAINT FINISH
MOONSHOT GREEN MATTE PAINT FINISH
GMC HUMMER EV EXCLUSIVE ACCESSORIES
GMC HUMMER EV EXCLUSIVE ACCESSORIES
---
IMMERSIVE
INFINITY ROOF WITH MODULAR SKY PANELS
This is what zero limits looks like. The industry-leading Infinity Roof and available Transparent Sky Panels create an immersive open-air experience. Let the world in by removing the four panels and the front I-Bar and lowering the power Rear Drop Glass.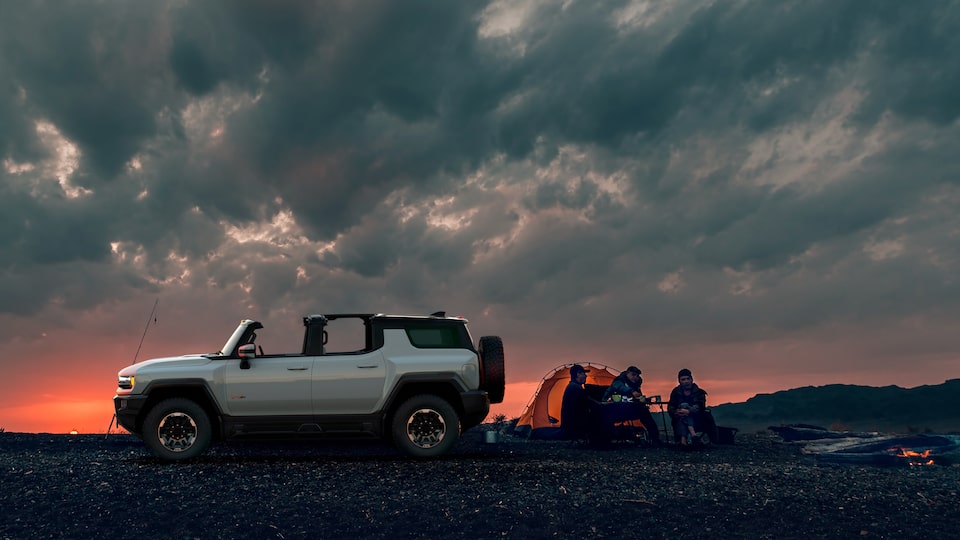 TRANSPARENT SKY PANELS

HUMMER EV's available Transparent Sky Panels are tinted to deflect the sun and help protect you from the elements while providing breathtaking panoramic views.†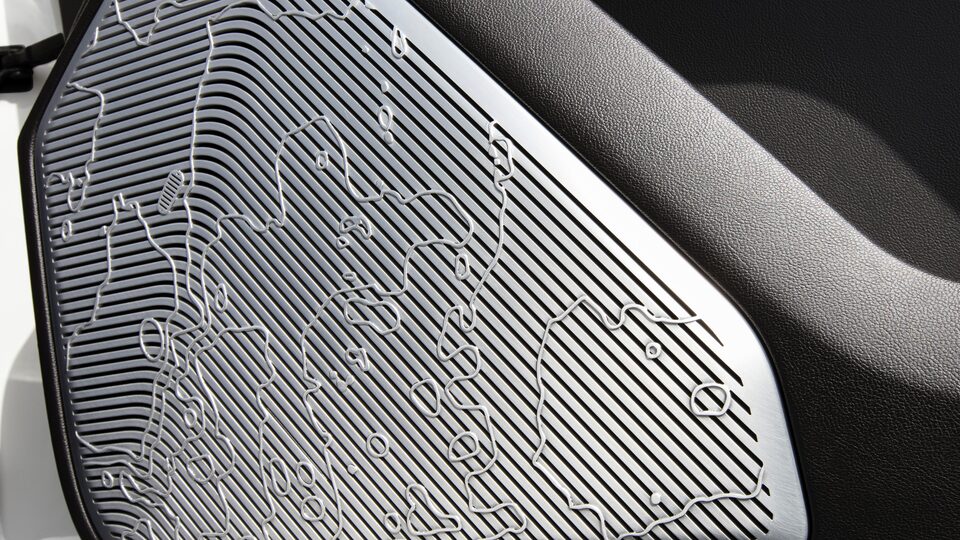 BOSE® AUDIO SYSTEM

The Bose 14-speaker audio system featuring Centerpoint® with the Electric Vehicle Sound Enhancement (EVSE) system creates a multisensory experience designed specifically for the HUMMER EV cabins.

NOT FAST. SUPER FAST.
AVAILABLE WATTS TO FREEDOM

†



AVAILABLE

0-60: APPROX.

3 SECONDS PICKUP
3.5 SECONDS SUV

GM ESTIMATES
---
---
AVAILABLE

UP TO

11,500 LB-FT.
TORQUE

†



GM ESTIMATE

---
---
AVAILABLE

UP TO

1,000 HP PICKUP

UP TO

830 HP SUV

†



GM ESTIMATES

---
---
LOWERS VEHICLE 2"
FOR ENHANCED

CENTER OF GRAVITY
AND PRODUCES INTERIOR
MULTI-SENSORY EXPERIENCE

---
NEXT-LEVEL TECH & DESIGN

It may be quiet, but HUMMER EV's revolutionary technologies and unmistakable design speak loudly.
---
---
SUPER CRUISE™

Offering the latest version of Super Cruise†, HUMMER EV with driver-assistance technology for hands-free driving and Automatic Lane Change† works on more than 200,000 miles of compatible roads and growing. All HUMMER EV vehicles will include a 3-year subscription.
LEARN MORE
---
---
ULTIUM BATTERIES: OUR ENERGY REVOLUTION

UP TO 350KW

†



800V DC FAST CHARGING

ON PICKUP,

UP TO 300KW† ON SUV AVAILABLE

---
---
AVAILABLE

800V DC FAST PUBLIC CHARGING
UP TO NEARLY
100 MILES IN 10 MINUTES

†



ON EDITION 1 PICKUP
---
---
GM-EST. UP TO
350+ MILE RANGE

†



AVAILABLE ON PICKUP

---
---
GM-EST. UP TO
300+ MILE RANGE

†



AVAILABLE ON SUV

---
---
REGEN ON DEMAND™

†



Regen On Demand and One-Pedal Driving† offer full control of the electric driving experience.

---
---
EXPLORE GMC HUMMER EVs
GMC HUMMER EV PICKUP AND SUV

BY THE NUMBERS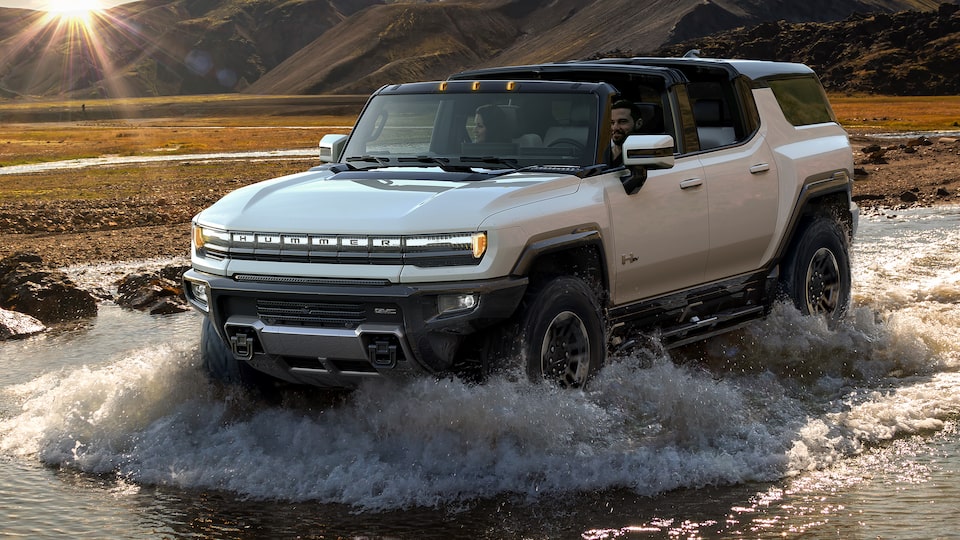 Dominating outside, spacious inside and nimble all around—the GMC HUMMER EVs' numbers equal more commanding, comfortable and confident adventures for you, your companions and all your gear.   
HUMMER EV DIMENSIONS

EMAIL UPDATES

Stay informed about the revolutionary GMC HUMMER EV PICKUP and SUV by signing up to get the latest updates in the HUMMER EV INSIDER.

---