---
WHAT IS THE GMC 5-YEAR/60,000-MILE POWERTRAIN WARRANTY?

The Powertrain Limited Warranty covers specific components in your vehicle, such as, but not limited to, the engine and transmission for 5 years/60,000 miles, whichever comes first. It is fully transferable with no fees and no deductibles. The Roadside Assistance and Courtesy Transportation programs are also included for the first 60,000 miles or 5 years, whichever comes first. For more details, please visit your GMC dealer.

HOW IS THE BUMPER-TO-BUMPER WARRANTY AFFECTED BY THIS 5-YEAR/60,000-MILE WARRANTY?

The Bumper-to-Bumper New Vehicle Limited Warranty covers all repairs on your GMC that can be attributed to defects in material and/or workmanship for the first 3 years or 36,000 miles, whichever comes first. The Powertrain 5-year/60,000-mile Limited Warranty, whichever comes first, provides the same coverage for specific powertrain components for an extended amount of time/mileage. For more details, please visit your GMC dealer.
WHAT ABOUT COURTESY TRANSPORTATION?

During the warranty coverage period, GMC provides alternate transportation and/or reimbursement of certain transportation expenses under the Courtesy Transportation Program if your vehicle requires warranty repairs. Several transportation options are available. Please refer to your Owner's Manual or consult your GMC dealer for more details.
WHAT DOES THE BUMPER-TO-BUMPER LIMITED WARRANTY COVER?

The Bumper-to-Bumper New Vehicle Limited Warranty covers vehicles registered in the U.S. from the date the vehicle is first delivered until it reaches 3 years or 36,000 miles, whichever occurs first. It covers all vehicle components if there is an issue due to defects in materials and/or workmanship. For further details, refer to your GMC Warranty Manual under "What Is Covered" and "What Is Not Covered."

IS MY VEHICLE COVERED FROM RUST, TOO?

GMC vehicles are designed and built to resist corrosion. All body and sheet metal components are warranted against corrosion for 3 years/36,000 miles and rust-through protection lasts for 6 years/100,000 miles, whichever comes first. Application of additional rust-inhibiting materials is neither necessary nor required under the Sheet Metal Coverage. GMC makes no recommendations concerning the usefulness or value of such products. Application of after-manufacture rustproofing products may create an environment that reduces the corrosion resistance built into your vehicle. Repairs to correct damage caused by such applications are not covered under your New Vehicle Limited Warranty. See your GMC dealer for terms of this limited warranty.

DO I HAVE TO GO TO THE GMC DEALER WHERE I PURCHASED MY VEHICLE TO HAVE WARRANTY REPAIRS PERFORMED?
While most customers prefer to have this type of work performed at their selling dealer, service can be performed at any GMC dealership.

CAN I TAKE MY GMC TO ANY GM DEALERSHIP FOR WARRANTY REPAIRS?

Repairs must be performed by an Authorized GMC dealer, except in a situation where you are significantly inconvenienced and when a covered part or a GMC dealer is not reasonably available to the vehicle owner. It's in your best interest to take your GMC vehicle to a GMC dealer for all repairs since they are the most knowledgeable about your vehicle.

CUSTOMER ASSISTANCE CENTER

---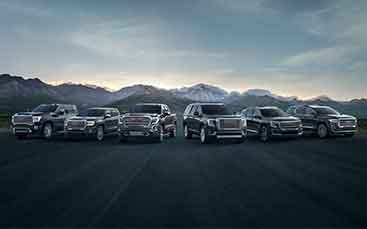 You can view your vehicle's warranty status to see if it's still eligible for its warranty coverage with your GMC Account.

SIGN IN OR SIGN UP
---
MANUALS AND GUIDES
---
---