ABOUT YOUR CLIMATE CONTROLS

---
You can control your climate control system through buttons on your dashboard or infotainment screen.† Here is general information about the controls.
---
Your system may not have all the controls listed here. Check your vehicle information for how your vehicle is equipped.

MANUAL TEMPERATURE CONTROL

Controls the temperature of the air delivered through the system vents. Turn counterclockwise for cooler air, clockwise for warmer air.

AUTO TEMPERATURE CONTROL

If equipped, press the Auto button and set your desired temperature. The system will automatically regulate the temperature, fan speed and direction of airflow to keep your environment at the set temperature.

DUAL-ZONE CLIMATE CONTROLS

If equipped, the driver and front passenger can select different temperature settings. Note: Some models feature Triple-Zone Climate Control where a third set of controls allows rear passengers to set their own temperatures.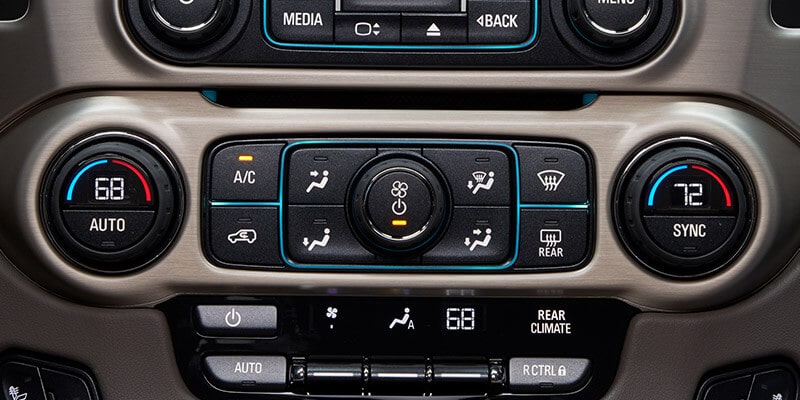 SYNC

Featured on multizone systems; when pressed it locks all the zones to the driver's zone settings.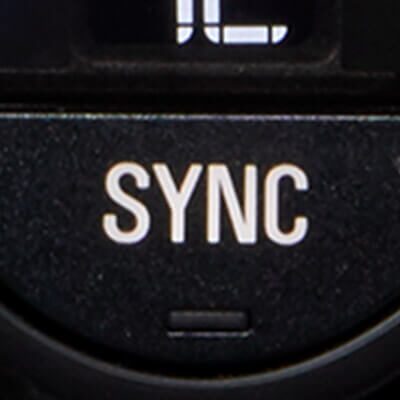 AIR CONDITIONING

Press to turn AC on and off; the button will light up to show it is active. Additionally, the AC button will automatically light up when Auto Climate Control is active. This doesn't necessarily mean the AC is on — it just means it's available for the system to automatically turn it on if it's needed.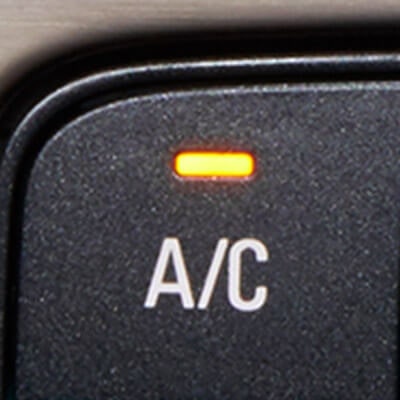 FAN CONTROL

Controls the speed of air delivered through the system vents. If your vehicle has Fan Up/Down buttons, then pressing the larger fan button increases fan speed; pressing the smaller fan button decreases fan speed. If your vehicle has a Fan knob, then turning the knob counterclockwise will decrease the fan speed and turning clockwise will increase the fan speed.
AIRFLOW DISTRIBUTION

Allows you to put airflow exactly where you need it.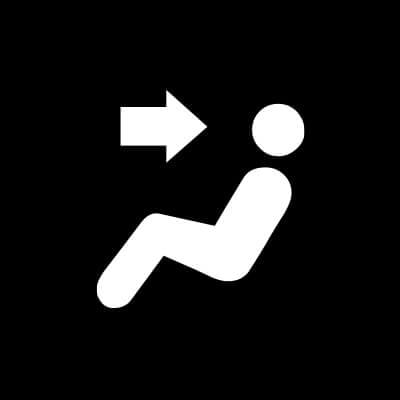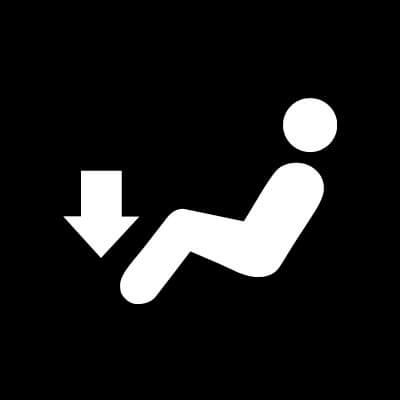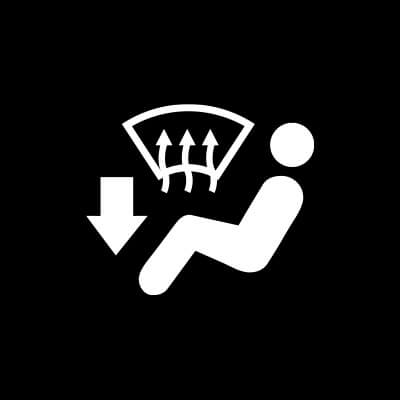 Directs air to windshield, outboard air conditioning outlets and side-window outlets. Automatically engages AC to reduce moisture

On vehicles that have Air Distribution buttons, you can control multiple airflow paths in combination. For example, if you have airflow to your feet (foot button lit) and you want airflow to your feet and torso, simply press the Torso button and now both buttons will be lit and airflow will be directed to both your feet and torso.
Note: You can only turn off airflow to all three locations by turning the system off using the ON/OFF button or turning the Fan knob all the way down (depending on your vehicle)

MAX/FRONT DEFROST BUTTON (IF EQUIPPED)

This feature lets you direct airflow to the windshield with one button press. Pressing this button will also:
Send airflow to the outboard air conditioning outlets and side-window defoggers
Turn off the recirculation function, if active
Turn on the air conditioning function
Potentially increase the fan speed on Automatic climate control systems
If Max Defrost is active and the Max Defrost button is pressed, Max Defrost will be turned off and the air distribution setting will go back to the prior selection.
RECIRCULATION

When selected, it helps cool down the interior with maximum efficiency. Instead of continuing to draw fresh air from outside the vehicle, Recirculation sends already cooled interior air back through the air conditioning system, cools it further and sends it back into the interior.
With Auto Climate Control, pressing the Auto button will turn off the Recirculation button indicator, but the system may engage it as needed for best climate control performance.
Recirculation can also be used to keep harmful or smelly exterior air out of the cabin.

Using Recirculation when it is very cold or cool and damp outside may lead to window fogging. If your windows are fogging, then recirculation should be turned off.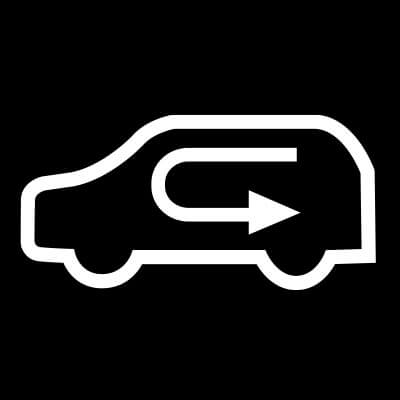 REAR WINDOW DEFOGGER

Heats a grid embedded in the rear window, helping melt frost, ice or snow. Stays on for approximately 10 minutes after the button is pressed. Each subsequent press keeps the system on for 5 minutes. The defogger turns off if the ignition is switched to Accessory or Off.
Activating the Rear Window Defogger also turns on the heated exterior side mirrors, if equipped.

RELATED LINKS AND RESOURCES
---
LOOKING FOR SOMETHING ELSE?

---
---
For your security, please don't include personal info such as phone number, address or credit card details.
NEED MORE HELP?
Communicate with one of our specialists.

---
---
To find out if your vehicle has this feature, contact your dealer or refer to your vehicle's equipment list. Please check your Owner's Manual for more information about features.