CREATING THE GMC HUMMER EV PICKUP
It's All in the Details
---
---
As bold and capable as the GMC HUMMER EV Pickup (initial availability Fall 2021) is, it can be easy to miss some of the details that make it a one-of-a-kind supertruck.
Here, members of the team — Scott Martin, Brett Golliff and Samir Datta — offer a look at the groundbreaking technology and attention to detail that will shape your interaction with the GMC HUMMER EV Pickup.
TECHNOLOGY AND DESIGN

As the Creative Director of User Experience (UX), Scott Martin focuses on the intersection where art and design meet strategy and technology to deliver a customer experience that is seamless and exciting.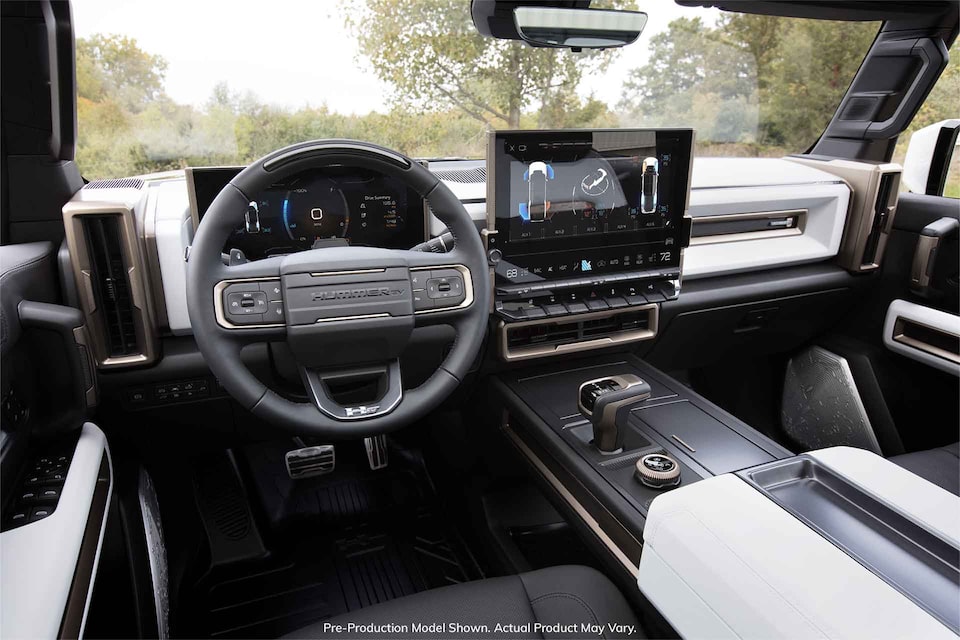 Climb in and among the first things you'll notice are the large screens — a 12.3-inch diagonal Driver Information Center (DIC) and a 13.4-inch diagonal Infotainment Center Screen (ICS) — which provide functionality and flexibility.
"The DIC offers plenty of space to have multiple instrument-cluster layouts," Martin points out. "Not only can the driver view large, easy-to-read charging information while plugged in, but they also can choose from 5 different layouts to customize how the gauges and information look."
In addition, the ICS provides the space and ability to view and use multiple functions simultaneously.
"We know that the ability to use audio and navigation features at the same time is a priority. The size of this touch screen allows easy access to both applications," Martin comments.
The ICS display is paired with a lower climate screen that blends physical toggles into the digital environment. The hardware sets the stage for the experience to come.
WORLD-CLASS GRAPHICS

To help drive graphics and interactivity to legendary levels, Martin and his team of experts worked with the pros at Epic Games and Perception. According to Martin, the graphic display sets a new bar in the industry for display themes with an air of the cinematic — especially the animations.
"Working with Epic Games to use the Unreal Engine onboard, the infotainment system creates robust and dynamic visualizations. We have industry-first virtual auxiliary switches, a dedicated off-road application inspired by real off-road users and customers, and a drive-mode experience that not only excites but informs."
As a result, drivers will be able to see and intuitively learn more about the GMC HUMMER EV Pickup's function and capability, increasing comfort and confidence.
"Many user-experience advancements revolve around using 3D geometry and 3D spaces entwined with the interface assets," explains Martin. "To make that compelling, you need something in a real-time environment with imagery or animations that are dynamic and can be interacted with. We are setting new industry standards in this area by working with the people at Perception. They are masters at their craft and know how to create visuals worthy of motion pictures — blending practicality and real-world applications with imaginative and creative concepts."
One very visible example of how everything comes together is the available 0-60 Watts to Freedom† mode that utilizes graphics on the displays, as well as the sound system.
"We show what the vehicle is doing in a cinematic way and how it is preparing for takeoff," Martin explains. "We want the driver to feel that they are interacting with something that has roots in space technology and feels unlike any other automotive experience."
WELCOME TO THE BRIDGE

If you sit back and look around the GMC HUMMER EV Pickup, you'll notice the unique aspects of the interior that were meticulously crafted by Brett Golliff and his team to complement the technology and enhance the overall experience.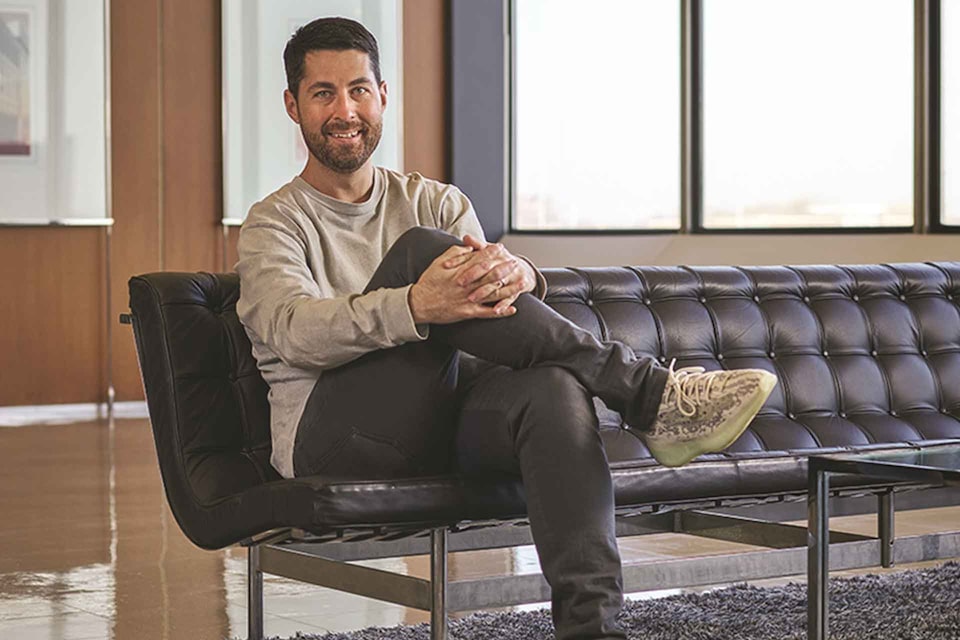 "Technology drove every decision we made," remembers Golliff, Color and Trim Design Manager. "We focused on enabling the manufacturing process to be a part of our aesthetic. For example, elements of the instrument panel are molded and casted — that drives an aesthetic. We embraced that, making it a part of the look and feel."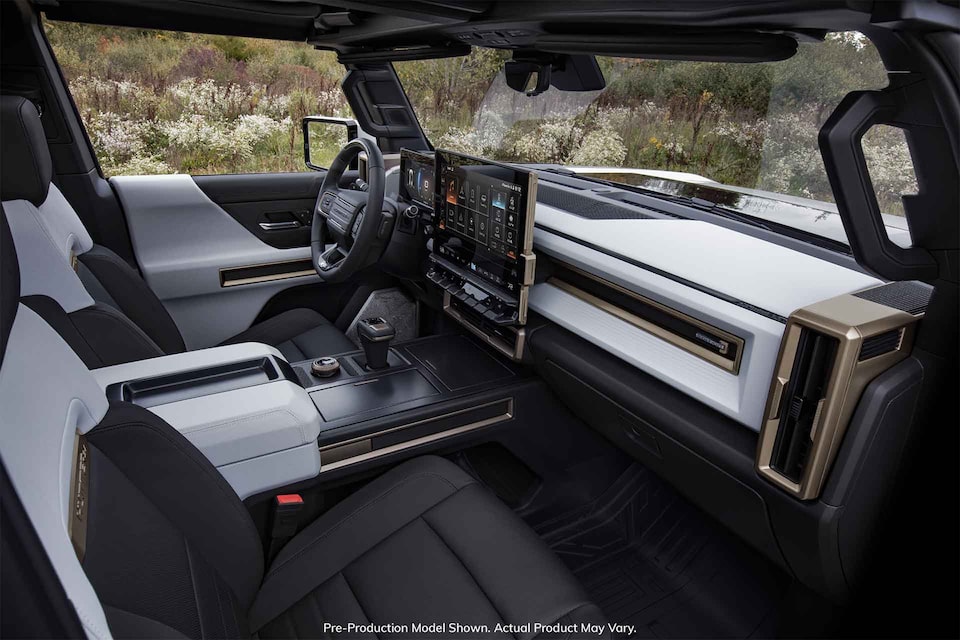 The GMC HUMMER EV Pickup offers two distinct interior choices — Lunar Horizon and Lunar Shadow.
"This is a highly capable vehicle, no matter the terrain," Golliff states. "We wanted to make sure we offered two interiors that spoke to that at all times, but also offer something entirely unique. There is no middle ground; it's either high contrast or low contrast."
Lunar Horizon is an impactful interior that highlights how bold the design is. Although Lunar Shadow is more subtle and subdued, it's still equally bold. Both feature Tech Bronze accents.
"That finish and color was developed to bring exterior accents into our interior. While it achieves that, where I think it really succeeds is by bringing a subtle approach to decorative elements. It's modern and sophisticated," Golliff explains.
It's interesting to note that, according to Golliff, both interiors are about 85 percent black. Yet the way the team created the color blocking for the accent colors, it doesn't look like there is that much black. It creates a very bold environment.
When you sit in the GMC HUMMER EV Pickup, Golliff encourages you to notice the way things feel and how that combines with the color to pull to your eyes throughout the interior. "It should take you on a journey."
SHINING BRIGHTLY

Similar to Martin and Golliff, Samir Datta crafts elements that drivers will interact with often, but may not always notice. The GMC HUMMER EV Pickup's lights enhance the interactive experience, while providing valuable information.
"The Charge Indicator on the GMC HUMMER EV Pickup is by far the most exciting element — the color, the style, the behavior, I love everything about it," Datta, Creative Designer, Exterior Lighting, enthusiastically shares.
Pre-Production Model Shown. Actual Product May Vary.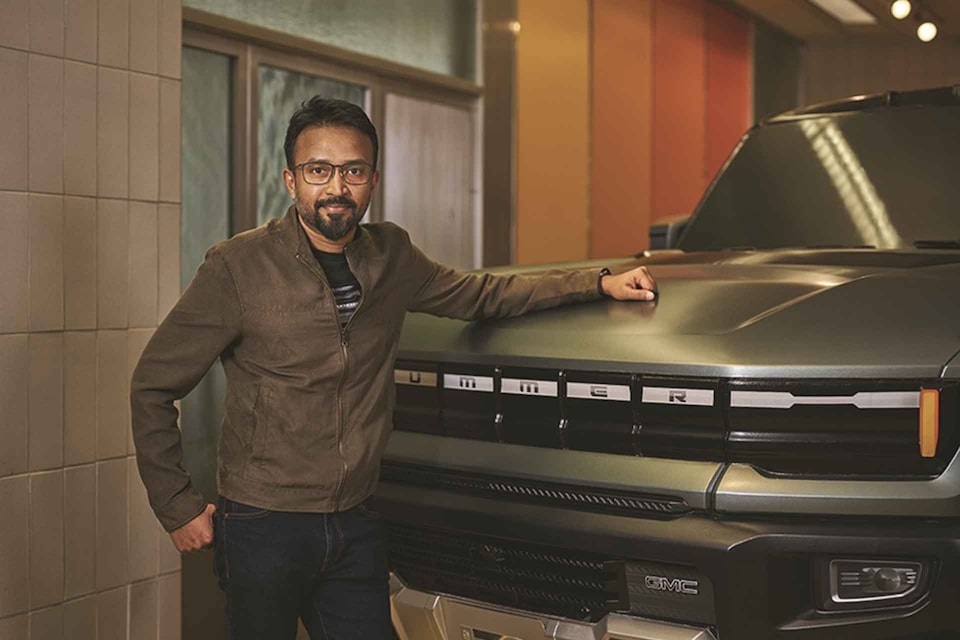 When plugged in, the 16 vertical bars display the Charge Status with a GM Ice Blue color. A high-intensity bar appears to travel from outboard to inboard, signifying active charging in progress. As the charging progresses, the bars come on one by one to steady blue, displaying the percentage of charge completion. During the entire charge cycle, the active blue high-intensity tracer plays the animation.
Like a trusted steed, the GMC HUMMER EV Pickup "comes alive" when the driver approaches it.
As described above, on approach, the driver will see charge percent displayed by the blue bars. When the driver gets in the key pass range, lights switch automatically to the welcome white signature hue with an animation sequence and stay on. This is to acknowledge that the GMC HUMMER EV Pickup recognizes its driver and is ready. (Drivers can select a stealth mode in which lights stay off.)
Datta also described a detail you can share with others as they appreciate how the GMC HUMMER EV Pickup shines, but wonder how developers did that.
"The HUMMER EV Signature on the sculpted crystal lenses is formed by highly precise micro-optics that required special prototyping methods and highly specialized tooling. Those micro-light catchers appear like thousands of tiny diamonds embedded in the lens."
It was an experiment in aesthetics and optical design for how three functions had to be perfectly integrated into one sleek solution. The Signature, Charge Indicator and animated Turn Signal lights occupy the same space without interfering with each other. This is a chrome-free, reflector-free design and all the jewelry is attained with sculpted crystal lenses. The result is a truly original design: super lights for a supertruck.
---
---
MORE STORIES
---
General Motors' EV Charging and Infrastructure Manager Aaron Wolff discusses the conveniences of charging GMC HUMMER EVs.

---
Take an immersive, multisensory gaming experience and add cinematic 3D graphics. Engineer it into the world's first all-electric supertruck — with you in command of every driving aspect.

---
Go behind the scenes with GMC design and engineering teams to learn more about how they brought the HUMMER EV to life.