RENOVATIONS FOR THE ROAD: BRINGING A NEW LEVEL OF COMFORT AND STYLE TO YOUR RV WITH THE FLIPPING NOMAD

---
It's the best of both worlds — outdoor adventure by day, a comfy bed at night.
RV owners have discovered a perfectly balanced lifestyle. RVs offer the ability to explore new places, seek out adventures or get in touch with nature, only steps away from a place you call home.
And whether you like to travel the highways and byways to fully equipped RV parks or go off the grid, your RV is your home, so it's important to make it truly yours.
While most RVs come with standard floor plans, furniture and amenities, many owners are upping their game with more modern looks and features to make their rigs all their own. As you embark on that next adventure, think about the possibilities for your RV.
THE FLIPPING NOMAD
RV renovator Cortni Armstrong understands that even minor updates can make a real difference. Known professionally as The Flipping Nomad, Armstrong has renovated 40 RVs, and counting, since she began her business six years ago.
Her first project was renovating a fifth wheel for herself while she was living in another RV full time. She began posting updates of the project on social media and soon had almost 40,000 followers checking in to see her latest design ideas.
"This is a very visual business, and living in an RV full time has taught me how to get creative," Armstrong says. "One of the core principles I follow is functionality before design. If something is going to impact how the rig functions, you have to be very careful with weight and distribution. For example, we can't do a full-tile shower because it's way too heavy. So I look for material solutions and maybe find something that gives me the look, but is lighter weight and will be roadworthy."
Armstrong points out that it's important to maximize the footprint in an RV space that's limited to about 400 square feet, at least in the fifth-wheel trailers she renovates.
"One of my favorite things to do is make things multifunctional so they are dual-purpose, like seats with built-in storage," she says. "Another thing I've been doing is installing a dishwasher. As long as the plumbing capability is there, it's one of the little luxury pieces I've noticed while living in an RV. It's such an added bonus."
Experience has given her insight into the overall renovation process (flooring is always installed last), and material selection is of the utmost importance, she says.
"I only work with sheet vinyl that looks like hardwood because it's lighter weight. If you use wood planks, then you get a lot of joints and everything is moving as you're going down the road, so the joints are too," Armstrong says.
Kitchen backsplashes and bathroom spaces created with tile add a modern feel to an RV if there is carrying capacity for them. But, she says, they also require a special, flexible grout because traditional grout is too stiff and will crack with regular road vibrations.
"Also, if the rig is going into storage, it could face 140 degrees during the summertime in Phoenix, but it could also face -40 degrees in the wintertime in South Dakota," Armstrong points out. "We have to design with those elements in mind and find the right materials."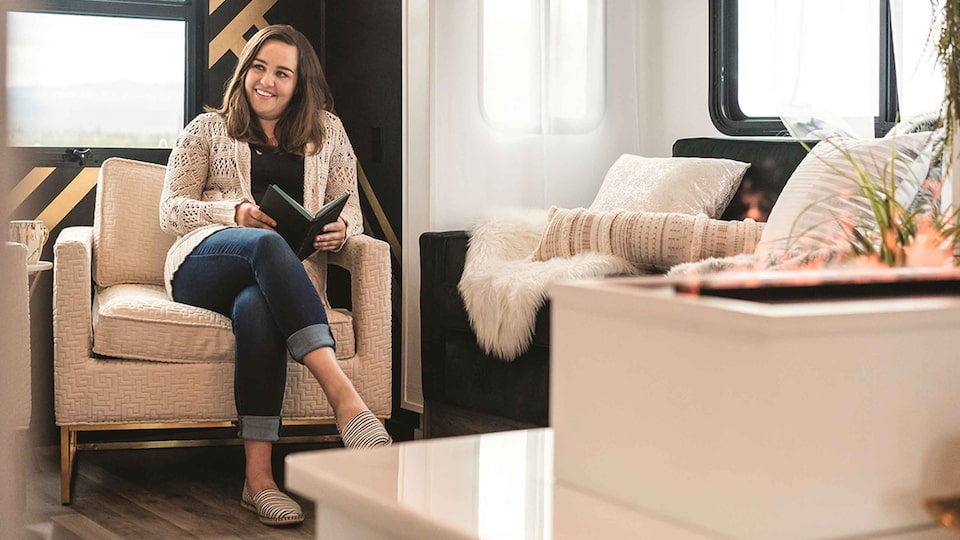 Working with a small team, which includes her mom, Armstrong purchases RVs and then works with clients to personalize the design. She prefers fifth-wheel RVs for their tall ceiling height, extra potential for storage, and conveniences like washer and dryer hookups.
The team has enjoyed breathing new life into RVs and meeting design challenges. One example is a couple who have two small dogs and found out they were expecting a baby shortly after starting a renovation. With some ingenuity and a teeny crib and dresser, they were able to create a nursery as well as dog crates in a dining bench.
STYLE MEETS FUNCTION
Owners who want to make updates to their home on wheels can take advantage of several trends on the rise. Solar power and lithium batteries are providing more alternatives to traditional energy sources, allowing RVers to get farther off the beaten path or away from the electrical posts of RV parks.
Off-roading upgrades also allow RVs to reach new frontiers with higher clearance and lift packages to navigate the harder-to-reach travel oasis.
At the same time, interior design is moving toward clean lines and light color palettes with modern accessories. Armstrong says her biggest request on remodels is a modern farmhouse or industrial farmhouse look. She's also noticing a Scandinavian influence of simplicity mixed with functionality leaning toward minimalism.
"The owner's lifestyle should always factor in, because it's a big component," Armstrong says. "Will they be working from there and need a desk or special workspace? If they have kids, what's the toy storage going to look like?"  
Technology is another growing area for RV renovation, especially when trying to maintain an option for staying connected.
"One thing that I've learned is that manufacturers rarely put outlets by the bed, so if you want to charge your phone at night, your phone is across the room. I always have reading lights in the headboards, and we can tap off that wiring and run wires behind the headboard," Armstrong says. "Then we can put USB charging ports in the headboards."
But it's the smart home technology that may really be the design trend of the future, Armstrong says. New technology and software is making its way into RVs and will likely continue to grow, with the capability of remotely turning lights on and off, retracting an awning, leveling your rig, or receiving phone alerts if your RV has been disturbed while you're away. It's something she wants to incorporate more into her future designs.
Pets are often a consideration, as well, says Armstrong, who travels with her dog, Rizzo. There's usually a place to build a custom crate space or tuck away a dog bed and toys.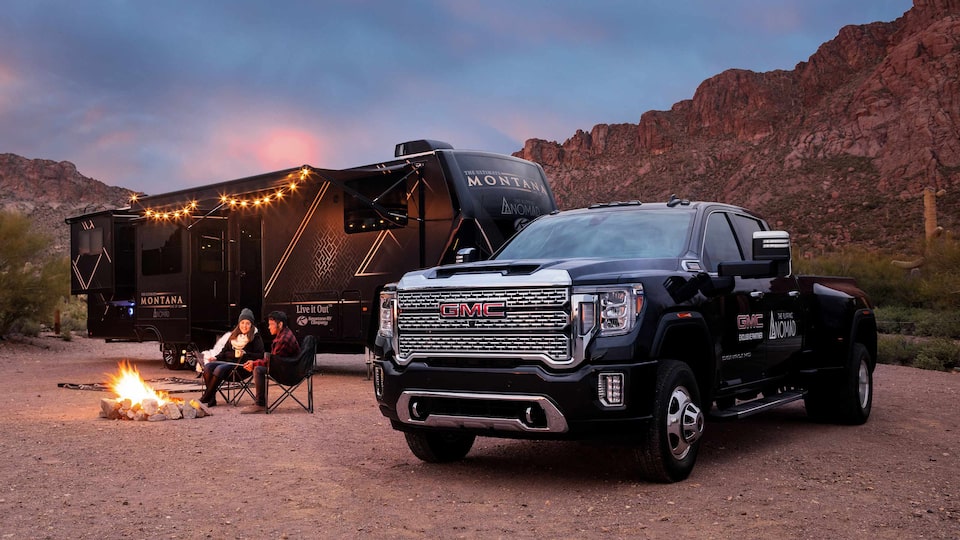 Meanwhile, if she has free time, you probably can find her RV camping with friends, enjoying the mountains outside her hometown of Boise, Idaho. There, campers pull off alongside the Middle Fork Payette River in Crouch, Idaho, and make soaking pools out of rocks in the river.
"I'm so obsessed with this lifestyle and this business," she says. "Especially coming home to a rig at night, I end up sitting at the dining table and reimagining the space. Being so immersed in the lifestyle, I think that's where the ideas come from the most — my own experience."
GMC LEADS THE WAY
Armstrong joined forces with the Keystone RV Company and GMC to tour the U.S. with The Ultimate Montana concept RV.
The one-of-a-kind RV arrives in style, towed† by a Sierra 3500 HD Denali built with the power and technology to confidently transport a fifth-wheel trailer.
"The biggest thing I have been impressed with is the power it has," Armstrong remarks. "I have been able to accelerate up a grade while towing. It is quite impressive!"
The Sierra Heavy Duty's available technology includes a class-leading available 15 camera views† featuring the Rear Camera Mirror†, and the 15-inch diagonal Head-Up Display.
One of Armstrong's favorite features is the Trailer Light Test, a function of the available ProGrade Trailering System†, accessible through an in-vehicle app† displayed on the infotainment screen and through the myGMC Mobile† App.
"I'm sometimes out with the rig solo, so everything is dependent on me," she says. "One thing I absolutely love is the Trailer Light Test. Once I get the trailer hooked onto the truck, there's a button that turns all the lights on for the trailer. It goes through a series of brake lights, flashers, left blinker, right blinker, reverse lights. I just push the button, walk to the back of the trailer and look to make sure everything's hooked up."
She also appreciates the ProGrade Trailering System's customizable trailer profiles and pre-departure checklist.
"I love how the trailer has its own profile in the truck. I can see how many miles are on the trailer," she says. "It's also cool that the truck recognizes which trailer I'm towing."
To make life on the go even easier, the Sierra HD Denali is designed to integrate The Ultimate Montana's available ASA Electronics iN-Command®† Control System with Global Connect that can be accessed through the myGMC Mobile App. The system allows owners to monitor and control a range of smart systems, such as water tank levels and HVAC controls, in RVs equipped with the technology†.
---
RELATED STORIES



Super Cruise† — the industry's first true hands-free driver assistance technology for compatible roads — will give on-the-go drivers a whole new way to experience the open road. This advanced technology will be available on the 2023 Sierra 1500 Denali and standard for the Sierra Denali Ultimate and will include new features like Automatic Lane Change† and Super Cruise with trailering. Learn how Super Cruise can help take some stress out of a daily commute while drivers keep their eyes on the road.
READ STORY


The GMC Sierra Heavy Duty and Sierra 1500 are designed and built to feature excellent power and advanced technology to help give confidence and ease with towing. One of these features is the available transparent trailer view. One of the class-leading available up to 15 camera views† on the Sierra Heavy Duty and Sierra 1500, transparent trailer view† allows drivers to virtually see through a compatible trailer for a view of what's behind your truck and trailer. Learn more about this industry-first technology and some tips on how to install the available equipment that is required.

READ STORY


Now you can take Amazon Alexa functionality with you out on the road with Alexa Built-In†. Learn more about this new in-vehicle app, which is available on select 2018 and newer GMC vehicles with compatible infotainment systems†.
READ STORY