GMC TERRAIN AND 2020 GMC ACADIA: ELECTRONIC PRECISION SHIFT
---
New design provides added storage space and interior refinement in both the GMC Terrain small SUV and the new 2020 GMC Acadia midsize SUV.

Above all else, the GMC Terrain small SUV and the new 2020 GMC Acadia midsize SUV are proof of GMC's attention to detail. Every element you touch, see, and feel within Terrain's interior has been painstakingly conceptualized, designed, and developed by GMC designers and engineers – and that most certainly includes GMC's new Electronic Precision Shift system, featured on both the Terrain small SUV and the updated 2020 Acadia midsize SUV (available fall 2019) models.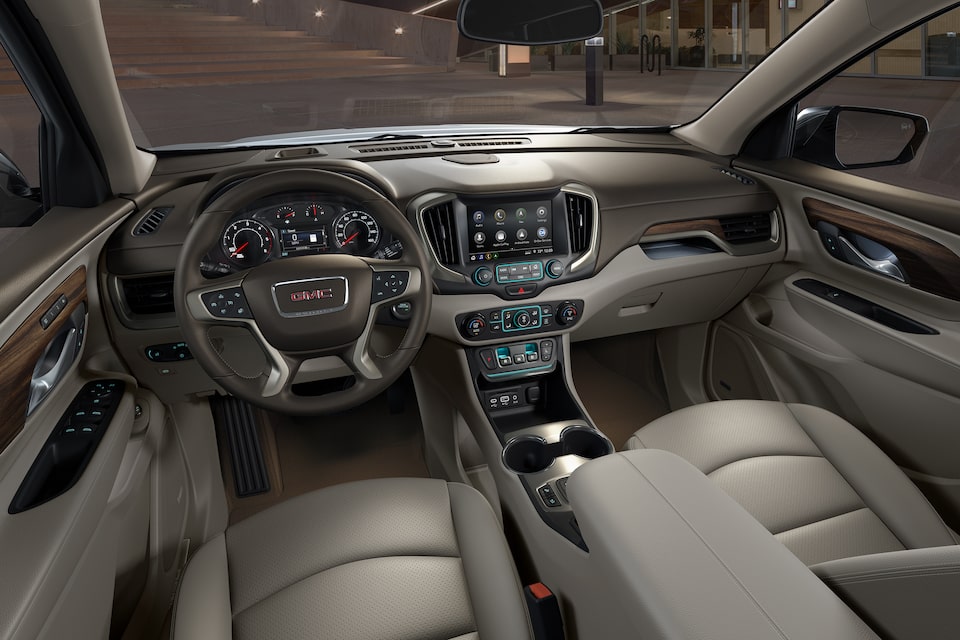 WHAT IS ELECTRONIC PRECISION SHIFT?
For quite some time, automatic transmissions have used electronic controls to determine when to execute a shift between gears – but the actual act of selecting a drive range – like park, reverse, drive, and so on – had typically been selected by way of a mechanical linkage.
Electronic Precision Shift fully leverages the electronic transmission controls in both Terrain and the 2020 Acadia to their fullest. As a result, instead of moving a shifter and linkage, drivers essentially "shift-by-wire." Gears are selected by way of a series of intuitive push/pull switches placed at the bottom of the center stack, where they can easily be viewed and reached by the driver.

WHY ELECTRONIC PRECISION SHIFT?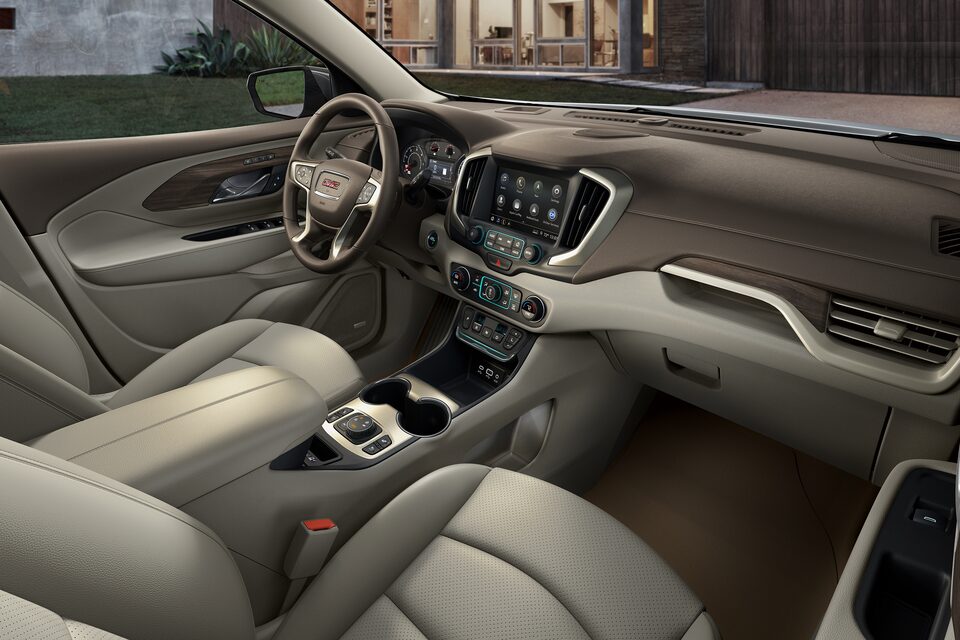 When compared to traditional automatic transmission controls, Electronic Precision Shift provides two distinct benefits. First, it allows engineers to remove a physical noise path within the vehicle, allowing us to further elevate the sense of refinement expected of a GMC.
"Mechanical linkages, compared with electrical wiring, require larger openings somewhere in the vehicle floor or body structure, which can act as a noise path directly into the cabin," said Rick Spina, executive chief engineer for the Terrain and 2020 Acadia.
Electronic Precision Shift also allowed GMC designers to free up usable space within the center console for both the driver and front passenger to utilize for their own belongings.
"Electronic Precision Shift really allowed us to open up the center console," says Michael Stapleton, director of interior design for GMC. "Not only does moving away from a console-mounted shifter give us more room to accommodate larger storage areas on the upper surface of the console, but eliminating the mechanical linkages allowed us to open up areas underneath the console that are large enough to stow a small clutch purse or small tablet device."
INTUITIVE DESIGN, SMART SAFETY

While different at first glance from a traditional shifter, Electronic Precision Shift quickly becomes intuitive to use. While park and neutral are selected by pushing their respective switch, selecting reverse or drive requires the driver to pull a toggle in order to avoid confusion with any other conventional button. And like any other automatic transmission, the driver must press the brake pedal before shifting out of park.
As safety is a key characteristic of the Terrain and Acadia, Electronic Precision Shift also incorporates other safeguards. For instance, it will not permit a shift into park unless the vehicle is travelling less than 3 mph. Likewise, it will not allow a shift into reverse unless the vehicle is moving slower than 6 mph. Electronic Precision Shift will also automatically shift into park if a driver shuts the engine off while drive or reverse is still engaged.

Electronic Precision Shift is standard on all GMC Terrain and 2020 GMC Acadia models.

---
---

Featuring a bold look and excellent capability, the 2022 Terrain AT4 is a muscular off-road SUV that is ready for adventure. Terrain AT4 (late availability) is the latest addition to GMC's line of AT4 vehicles. See how Terrain AT4 allows you to take charge of the trails in premium comfort.
READ STORY


The new OnStar Guardian™ app† is now available for use in any vehicle, anywhere. You and up to 7 loved ones now have access to key safety services whether on the go or sitting at home. See how the Guardian app brings even more flexibility to the OnStar experience.
READ STORY


Situations can change when you're out on the road. That's why it's important for drivers to feel confident and safe behind the wheel. It's also why GMC's standard and available safety and driver assistance technologies are engineered to help you be aware of a potential hazard.
READ STORY